Advanced Termite Treatment Services In Melbourne
Termite infestation is more than a general pest issue as it can cause significant damage to the property and add financial strain to its owners if left untreated. It is difficult to eradicate these pests from properties.
Do you see the pest infestation at your property and are searching for effective termite protection or termite treatment in Melbourne?
Tom's Pest Control has deeper expertise in treating and controlling different species of termites in residential properties, commercial properties, and industrial facilities.
At Tom's Pest Control, we will conduct a detailed termite inspection, create a customised treatment plan, complete a comprehensive termite control service, and provide you with the tips for ongoing termite control at your property.
Why Is Termite Treatment Necessary?
Australia is home to nearly 350 termite species, and most of them do not cause any issues to humans or damage buildings. In Victoria, just five termite species are pests and cause damage to buildings.
Before moving onto the treatment, you should know the extent of the damage these termite species can make to your property.
Do you have specific questions about the pest infestation, including white ant treatment or tips for termite protection for your Melbourne property? Talk to our certified termite control specialists today and get specific answers and solutions.
How Can You Confirm Termite Infestation At Your Property?
You may not always see termites at your property but should conclude that there is an infestation through the following signs:
If you see any of the following signs at your property, contact Tom's Pest Control immediately for a termite inspection and white ant treatment services.
Our Termite Pest Control Treatment
At Tom's Pest Control, we offer complete, four-stage termite and white ant treatment services. The four stages of the treatment are the following:
Termite inspection
Once we get the call from you, our certified termite control specialists will visit your property for a detailed termite and white ant inspection. Our experienced technicians will report the termite species, the extent of destruction they have caused, the reasons behind the infestation, and more.
We will also identify the characteristics of the species and the termite nests in and around your property. This also helps us to create a termite and white ant barrier around your property.
Termite Treatment Plan
Based on the inspection results, we will create a tailored termite treatment plan to safeguard your Melbourne property from the pest. The treatment plan will include the type of treatment, the expected results, the treatment timeline, and any instructions to the inhabitants of the property.
We will also communicate the treatment plan and ensure that you receive smooth and transparent termite control services.
The Extermination Process
Our certified termite extermination and white ant protection specialists will complete the procedure as outlined in the treatment plan. At Tom's Pest Control, we prefer to choose non-chemical treatment options. However, based on the extent of the damage the termites have caused, we may use termite baits, termite dust, or termite foams.
Regardless of the treatment procedure, we use only approved, safe products to complete the extermination process.
Ongoing Prevention
Termite extermination may not give you lasting results if ongoing prevention treatments are not there. We will also offer you termite barriers to protect your building against future infestation. At Tom's Pest Control, we offer three types of termite barriers for termite control.
Physical barriers – mostly a special layer placed under your building slab.
Chemical barriers – treating the soil around the property with termiticides.
Termite resistance materials – use of steel frames, cypress pine framework, concrete tilt slab construction, and more.
You can ventilate the properly well, seal entry points to your property, keep the property uncluttered, and regularly lookout for a termite infestation to minimise the pests attacking your property.
Why Tom's Pest Control?
At Tom's Pest Control, we make a difference with our service standards and provide long-lasting termite control services. Our service includes: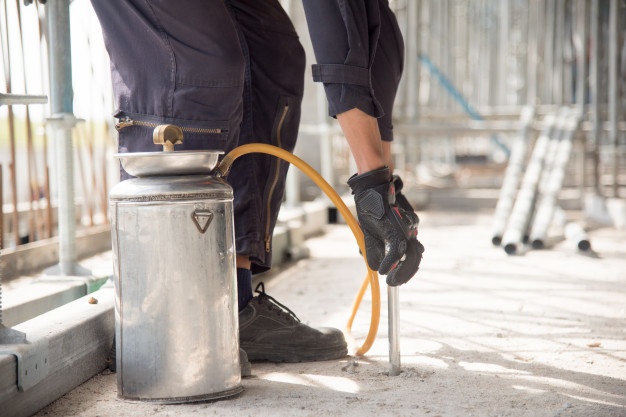 Make Your Property Safe From Termites
Call us today on
(03) 9034 5957
or use our
online form
to provide more details about the termite and white ant infestation at your property. With an upfront quote, regular communication, and certified technicians, you will receive a service that you can be thankful for.